We currently have preschool openings! Registration is now open for the 2023-2024 school year.

If you are interested in taking a tour of our Preschool or would like more information, please contact Roxane Fineo at 727-723-7679 or

Welcome to Kids' Corner. We are a licensed and NAEYC accredited Christian Early Childhood Center which has served the community for over thirty years. We are a VPK provider and our class sizes are small for all ages. Our philosophy is to focus on the development and advancement of the whole child. Our goal is to nurture children in their spiritual, physical, emotional, social and academic growth and to assist families in developing the skills necessary to attain these goals.
Kids' Corner Preschool National NAEYC Accreditation Letter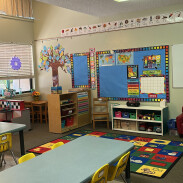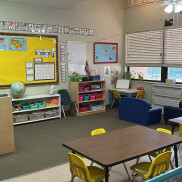 Our professional staff is dedicated to providing an age-appropriate educational environment where children can learn through exploration and play. The program allows each child to work at his or her own individual pace. Communication with our families is very important to us, as you are your child's first and most valuable teacher. We are observing and taking notes on your child to assist us in providing the tools each individual child needs to succeed. We facilitate parent teacher conferences, and we post lesson plans weekly.
Music and art is an important part of our program and is promoted on a daily basis along with pre-reading and math skills.
Classes offered and fees:
MONTHLY TUITION* (Hours 9:00 AM- 12:15 PM)
*Tuition is an annual tuition based on 10 equal monthly payments.
-Monthly tuition is due the first of every month.
-Three Day classes are Monday, Wednesday, and Friday.
-Two Day classes are Tuesday and Thursday.
-If full annual tuition is paid by August 1st a 5% discount will be given.

2 day (T/Th)

3 days (M/W/F)

5 days

2 Years

(must be 2yo by 9/1)

$200
$275
if available $375

3 Years

(must be 3yo by 9/1)

N/A
$275
$375

VPK/Pre K

(must be 4yo by 9/1)

N/A
N/A
Voucher
*Your child MUST be toilet trained to be in the three-year-old program.
Additional Hours Offered:
Extended Care hours are 12:15-2:15 p.m. for 3 and 4 year old classes.
9 Equal payments beginning September 1st :
2 days per week (Tuesday, Thursday) $95
3 days per week (Monday, Wednesday & Friday) $110
5 days per week $135
VPK 5 days per week $160

ANNUAL REGISTRATION (non-refundable): $100 per child
-No registration fee for VPK
-No registration fee for active church members

ANNUAL SUPPLY AND ACTIVITY FEE: $100 per child
-Suggested but not required for VPK

Annual registration fee, supply fee are due at the time of registration and are non-refundable.


Our program provides a safe and nurturing environment for children to work and play in an atmosphere of love and understanding. Read what our parents have to say:
--"We really are so blessed to have a Christian school for our little ones to start their education journey. We are in deepest gratitude for everything you do!"
--"I loved how creative and caring all the teachers were. My boys learned so much and enjoyed learning at Kids' Corner." --Stephanie
--"Full of learning opportunities and lots of outside time!"
-- "The teachers are so nurturing while setting clear expectations in a positive way." --Stacie
-- "Your communication, the various activities and your kindness made us feel so comfortable in the school. Thank you for your dedication."
--"Too many things are amazing about this school to write." --Katie
If you're looking for a faith based, NAEYC accredited preschool, look no further.

Please contact the school director, Roxane Fineo with any further questions. (727)-723-7679 or