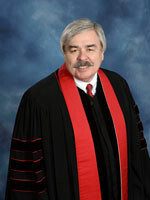 Rev. Dr. E Chris Curvin
Senior Pastor
A native of Soddy-Daisy, Tennessee, Dr. Curvin, or "Chris" as he is called by his church members, graduated from Middle Tennessee State University with a B.S. degree in Psychology and Sociology. His graduate and post-graduate studies were completed through Columbia Theological Seminary in Decatur, Georgia.

Before his call to Northwood he served churches in Edinburgh, Scotland, Alabama and then two churches in Florida - the First Presbyterian Church of St. Petersburg and Church of the Palms in Sarasota. While at Church of the Palms he developed two contemporary worship services and served as the Steering Pastor of the new church development in Lakewood Ranch now known as the Peace Presbyterian Church. He has participated in and/or led mission /study trips in the US and to Russia, Jamaica, Mexico, Honduras and the Holy Land.
He has served as a member of numerous committees and councils of the Presbyterian Church (USA) such as the Presbytery Council of Tampa Bay Presbytery and the Council of Peace River Presbytery, as well as, the Council of the Synod of Living Waters. While serving as a pastor in Scotland he also served as a (PCUSA) delegate to the General Assembly of the Church of Scotland and the Congregational Union of Scotland (CUS).

Chris has served as the Senior Pastor of Northwood Presbyterian Church since November 1, 2005 and will celebrate 10 years of ministry at Northwood on November 1, 2015. He was ordained as a Minister of the Word and Sacrament on June 15, 1986.

He is married to Joyce Kenfield, an artist and visual designer and they have been married for over 20 years. They have two sons, Will, a student at Florida State University, and Ben, a student at Tarpon Springs High School. His interests are his family, walking, reading, sports and fishing, (but fishing only in calm waters!)

His beliefs are centered upon the teachings of Holy Scripture, as they are understood in the Reformed tradition. He believes the Bible contains the voice and revelation of God to us and that these teachings give us a guide for developing our faith and living our lives.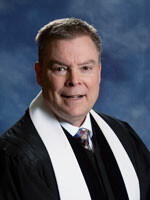 Rev. Dr. Paul Means
Associate Pastor
A native Oklahoman, Paul grew up living on Tulsa time. He graduated from Oklahoma State University with a B.S. degree in Business Administration. After graduation, he worked in the field of accounting, and then after earning an Associate Degree in Business Computer Programming from Tulsa Community College, he worked eleven years as a programmer analyst in Dallas, Texas.
On January 1, 1995, after church, an elder encouraged Paul to consider whether God might be calling him to become a Minister of Word and Sacrament. Nine months later, he and his family moved to Austin, Texas where he began his Master of Divinity studies at Austin Presbyterian Theological Seminary. After graduating from APTS, he was ordained as Minister of Word and Sacrament in July, 1998. Prior to his call to Northwood, he served churches in Mississippi and Tennessee. While serving these churches, he continued his theological education, receiving a Doctor of Ministry degree with a focus on Christian spirituality from Fuller Theological Seminary. During this time and while at Northwood, he has been involved in mission/study trips in the US and to Honduras, Mexico, Kenya and the Holy Land.
Paul has served as the Associate Pastor for Mission and Pastoral Care of Northwood Presbyterian Church since February, 2009. During July, 2015, he had the opportunity to go on a sabbatical centered around the theme, "Celebrating God in the Beauty, Majesty and Wildness of God's Creation." This amazing sabbatical experience included travel, photography and hiking in Glacier National Park, the Canadian Rockies and the Olympic Peninsula in Washington State.
He is married to Pam, a social worker. They have been married for over 25 years and are thankful for their two young adult sons. Interests and activities which bring joy and nourish his faith and refresh his spirit are time with family, photography, exercise, reading and movies.
Stephanie Carson
Director of Music
Stephanie received a BA in vocal performance from Lebanon Valley College in Annville, PA with a minor in piano. After a year working towards a Masters in Church Music at Westminster Choir College in Princeton, NJ, she went on the road with her band as lead vocalist playing in clubs, casinos, parks and fairs, including many corporate engagements. As God was preparing her for her current job as Director of Music at Northwood, she feels equally comfortable with both classical and pop music which serves both traditional and contemporary services.

Stephanie also received certification in the pre-K Musikgarten curriculum and studied conducting at USF in the masters program. She became part-time children's music director in 1996 and full time Director of Music in 2000. She currently directs the Chancel Choir, Voices In Praise contemporary service band, 2 adult handbell groups (intermediate and advanced), 3 children's choirs and the children's handbell/Orff ensemble. (Youth choir and bells are directed by Tom Huffman). She has two grown children and lives in Clearwater.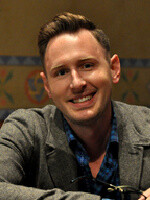 Nathanael Leonard
Associate Director of Music & Organist
Nathanael Leonard is a recent transplant to the St. Petersburg and Tampa area. Hailing originally from Williamstown, WV, Nate completed his Masters Degree in piano performance and concentration in vocal collaboration at the University of Toledo. Active in both sacred and secular music, Nate has enjoyed serving as the director of church music programs, directing and accompanying musical theater production, collegiate instructing and accompanying in all musical genres.
In addition to musical pursuits, Nate owns and manages commercial and residential property in Toledo, Ohio and is in the Tampa area working for The Willow Center, a counseling company providing perspective and wisdom in order to rediscover peace and restore relationships. Nate is passionate about building relationships in order to cultivate joy, harmony and belief in common goals and aspiration.
Nate is excited to return to worship at Northwood Presbyterian Church, believing that fresh expressions of faith have become evident through a global pandemic. While there is much work to do, there is also much joy to be experienced as we, albeit slowly, return to "normal," realizing that normal can include the silver linings from struggles we all faced together. It is his hope that this pandemic has invited us to open our hearts to change and allowed us to more fully appreciate and celebrate each others' differences.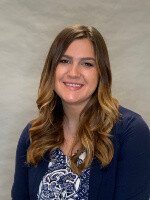 Rosalie Bradford
Director of Youth and Family Ministries
Rosalie was born and raised in Clearwater, where she graduated from Clearwater High School and the University of South Florida with a degree in Psychology and Sociology. Rosalie is one of four children and is a twin. Rosalie is from a family of educators, and proudly follows in that path.

Growing up, Rosalie loved to play outside and do anything creative. As a kid, people would always tell her she had "artist hands" and is still told that often as an adult. She spent her time in high school in the art program, anchored the morning announcements every day, was a percussionist in the Clearwater High School Tornado band, and worked at a craft store. Rosalie loves to cook, travel, play with her dog Bella, spend time with family, rock climb, study Psychology, loves cars, anything creative, and stays active. Rosalie calls herself a "Jack of All Trades, Master of Some".

Rosalie grew up going to camp at Cedarkirk, and attended the highschool youth conferences at Montreat. Rosalie is a proud Prebyterian and served as the Director of Youth Ministry at Peace Memorial Presbyterian Church from 2014-2018 and then went on Program Staff at Cedarkirk Camp and Conference Center for this past program year. She worked on site facilitating camp activities, leading worship, instructing crafts and organizing events. During the summer she was the Traveling Day Camp Site Director, where she traveled to a new church every week with a van full of counselors and camp supplies, hosting a Vacation Bible School for the week. Rosalie is a strong advocate for mission work and is excited to plan mission trips with the Citylight youth. Rosalie plans on pursuing a higher education and continuing her call to ministering to youth and children.

Rosalie's mission is to "Connect children, youth and families with one another to grow in faith and express God through their spiritual gifts, thriving in community."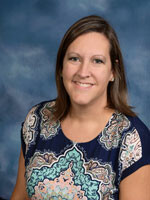 Emily Cantin
Director of Communications
Emily joined the Northwood staff in the fall of 2018 as the Director of Communications. She feels blessed to be able to serve with such a caring and supportive community.

She graduated in May of 2002 from the University of Tampa where she received her Bachelor's degree in Music Education. She taught elementary music for a few years before starting a family. She is the wife to Steve, a very supportive and loving husband and the mother of three children. They are all active in music, sports, and in the life of Northwood. Emily enjoys spending time with her friends and family, reading, and walking the causeway.

In joining the Church in 2015, Emily has kept herself busy around Northwood. She is in the Chancel Choir, Jubilation Handbell Choir and sings with Voices in Praise. Northwood is her home and the people here are her family. She feels so thankful to be surrounded by such loving and God centered people where she can build on her love and faith in Christ.
Email:
Chris Hurst
Business Administrator
Chris joined our staff as Business Administrator in September, 2008. She has been a member of Northwood along with her husband Allen since April 1992. Their now-adult children were raised in this church. Chris is an Elder and the former Chair of both the Human Resources Committee and what is now known as the Stewardship/Property/Finance Ministry Team. She has also been the Sunday School Coordinator and a Sunday School teacher. She was born and raised in Missouri (hence her "Show-me" nature) but has also lived in Oklahoma and Mississippi where she earned her M.B.A.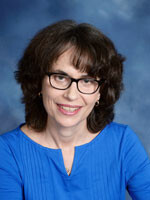 Linda O'Leary
Bookkeeper
Linda joined the Northwood Staff in November 2008. Among other duties, she is responsible for the weekly offering count, maintenance of pledge records, accounts payable, payroll, and the church's financial records. Linda received a B.S. in Business Administration with a major in Accounting from Valparaiso University. She has worked as an accountant for other businesses and has volunteered in many roles over the years.

Linda, her husband Mike, and their children, Kevin, Mark, David, and Kathleen have been members of NPC since 1995. She is currently a member of the Celebration Ringers and has been involved with many areas of church life over the years. Linda enjoys her job at the church and the interaction with the staff and members.

Mark Johnston
Technology Team Leader
Mark Johnston has 15 years ministry experience overseeing creative arts teams, including Technical Arts teams. He also has professional experience operating sound for live and recorded music and has 14 years experience in video production. Mark has a Masters Degree in Music from Illinois State University and currently teaches private music lessons through his business "Clearwater Music Lessons, Inc." In his spare time Mark enjoys spending time with his wife and three kids.